Reinforced Concrete Rebar Detailing for Residential Building
What are reinforcement drawings a part of?
Rebar detailing is the discipline of preparing 'shop/placing' or 'fabrication' drawings or shop drawings of steel reinforcement for construction.
Reinforcement shop drawing is an essential part of producing a product. Preparing the reinforcement drawings is an important task in the rebar detailing process. A reinforcement drawing shows the positions of all reinforcing elements in a particular structure or a structural element.
Details drawing – Structural details are included in a separate drawing or in an original drawing as a special information.
The drawing should contain comparison information which is included for engineers and architects to better understand specifications. Descriptions about prescription, performance, and appearances should be included in drawings.
Reinforcement shop drawings should precisely include fabrication instructions, manufacturing conventions, and dimensions. Reinforcement shop drawings are meant to be very descriptive to all, especially fabricators.
One of the benefits that 3D concrete modeling software offers is that it recognizes shapes and volumes as objects, as opposed to a collection of lines. In Allplan, any shape that can be modeled can be reinforced – even freeform models.
Structural Elements of Reinforced Concrete Buildings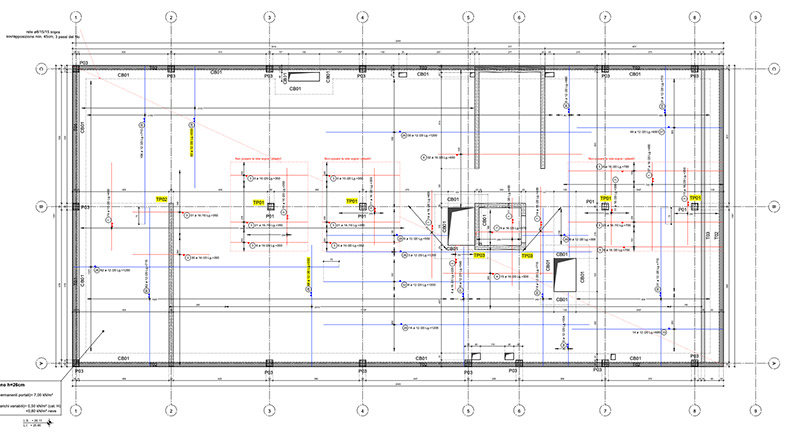 Slabs are horizontal slab elements in building floors and roof. They may carry gravity loads as well as lateral loads. The depth of the slab is usually very small relatively to its length and width.
Reinforced concrete beams or joists are mostly used for lifting loads from the ceilings. Reinforced concrete beams are often subjected to high loads, which often result in high levels of reinforcement and complex reinforcement routing.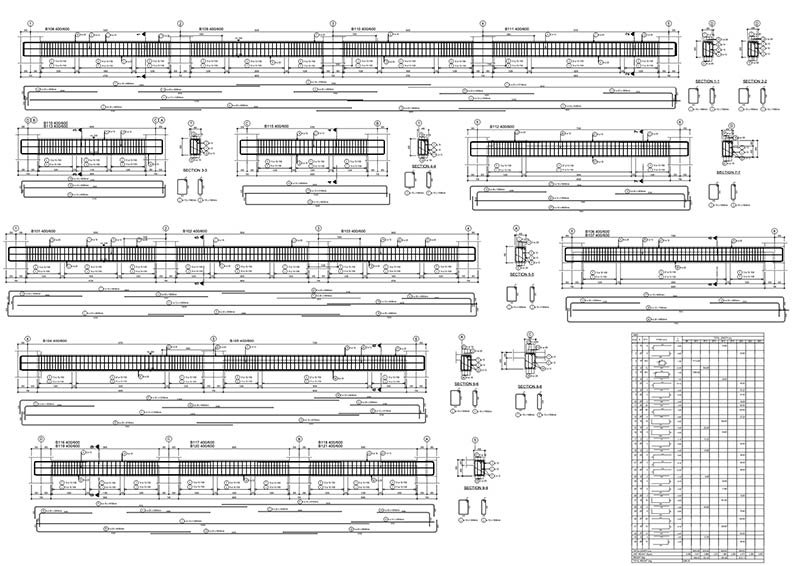 Long horizontal or inclined members with limited width and height are called beams. Their main function is to transfer loads from the slab to the columns.
Columns are vertical members that support loads from the beam or slabs. They may be subjected to axial loads or moments.
Walls are vertical plate elements resisting gravity as well as lateral loads e.g retaining walls, basement walls. etc
In many cases,  reinforced concrete walls have special requirements. Namely, the tightness, exposure classes, concrete qualities, concrete surface requirements, and the degree of reinforcement all of which represent some essential features of concrete walls. The designer must ensure correct functional and structural reinforcement management in the rebar detailing of reinforced concrete walls.
For example, the wall on the top floor was unique, featuring alternating wall segments made up of wall slabs with 20 degree angles as well as straight segments. Together with the reduced height, many small triangular-shaped elements were created. Reinforcing these wall elements was challenge on projects sometimes.
The footing of a building represents the structural-constructive connection between the building ground and the building. For example, using which footing type depends on the ground conditions and the type of building. Moreover, the foundation (footing) of the building has the important task of safely conducting the building loads in the load-bearing ground.
Footings are pads or strips that support columns and spread their load directly to the soil. The most popular types for surface foundations are single and strip foundations (footings) or base plates with a lower and upper reinforcement layer.
How ALLPLAN & ALLTO PythonParts Helps - Effective Reinforced Concrete Modeling
While it may seem like a simple copying function, it was essential when used correctly. When dealing with similar elements on different floors, the whole reinforcement model – including sections and views – could be copied over to the new floor while retaining the bar labels. This saved a considerable amount of time during the modeling phase.
Another useful function in Allplan was the ability to filter elements by a large number of properties. This meant that the right elements could be found easily, and was useful when a change needed to be executed quickly and precisely.
Having worked with Allplan for several years, NOVAM are convinced of the advantages that it provides. "Allplan is also a solution that we've always seen evolve. We're always one step ahead of others with this software," concludes Thierry Palvadeau.
How NOVAM benefits from Allplan and Design to Build
NOVAM, a French multidisciplinary engineering consultancy, explains why Allplan is the solution of choice for their construction projects such as the Future Center for Interventional Surgery at the Rennes University Hospital….
Allplan has helped NOVAM deliver their projects more successfully in many ways. Working in 3D has provided benefits not just in terms of being able to create accurate 3D models, but also for managing information more effectively. 
"Allplan helps me in that it offers many tools that allow us to model in 3D. Such models are a huge database. It allows us to link everything: what it costs, what it is, the quantities that are associated with it. This results in the building. It is also a tool that allows us to realize many very precise details, whether it's reinforcement or a general arrangement detail," explains Antoine, BIM Manager at NOVAM. 
Green Building in a Natural Haven: The Cool4U Ltd. Office, Hungary
Cool4U Ltd. – the Hungarian representative of Gree Group – wanted to establish a prestigious, high-quality, and environmentally conscious office building to European standards. Working with TIBA Architects Studio, CENC Civil Engineering Company was selected to provide the design of the supporting structure, including licensing and construction design documentation. Read more >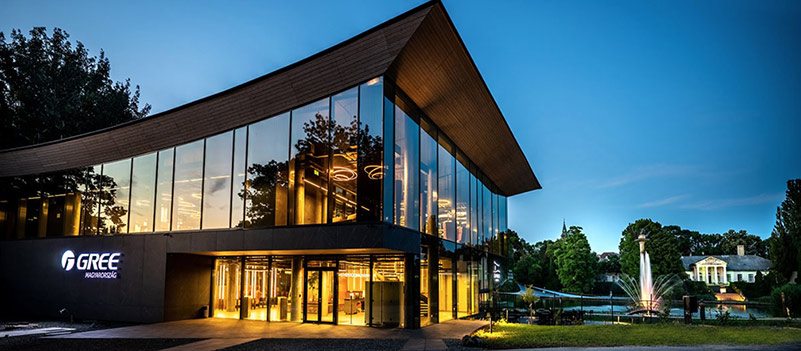 source: allplan.com; Csaba Szin
CENC used Allplan civil engineering design software for the reinforced concrete design. With Allplan, CENC was able to create precise drawings and models of the building's structural system. Allplan is particularly suited to reinforced concrete design, offering many integrated tools such as one-click reinforcement modeling, easy reinforcement detailing, and automated shop drawings for fabrication with pythonparts.
New (affordable) housing for Munich: Freiham
Munich urgently needs new apartments. Around 11,000 are currently being built in Freiham, a new neighborhood of 125 subsidized housing units provided by GWG München. 
Case Study Aviatica Prague, Czechia (The Czech Republic)
Aviatica is primarily a precast concrete skeleton construction. The section of the tower that projects beyond the building's cubature was created using cantilevered steel girders supporting concrete slabs…
Read more >
from the prestressing of the concrete beam and the vibration isolation through to the different pillar patterns between the underground and overg- round stories, the project involved many technical construction tasks that the engineers would normally have tackled in separate teams with different software solutions.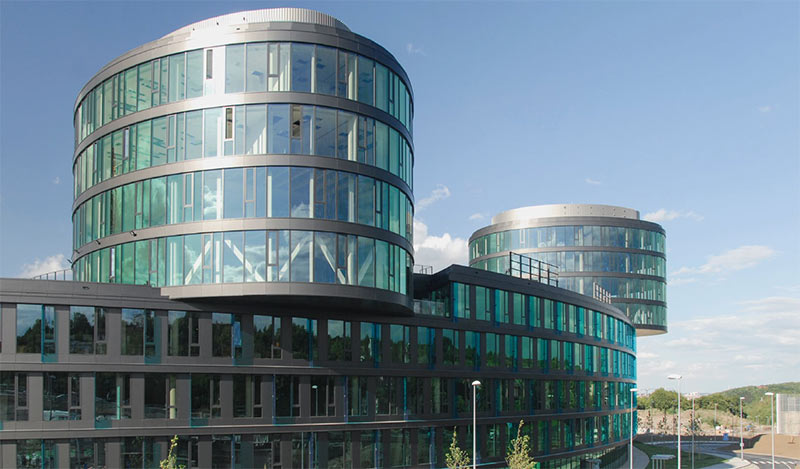 "We tried to utilize as much information as possible for later use – not only for exchanging data during the different design stages, but also for providing information to future stakeholders like contractor companies or even facility management", says ing. Václav toman, engineer at building s.r.o.
City museum of the future: Wien Museum at Karlsplatz gets an extension
The Wien Museum, designed by architect Oswald Haerdtl, opened 63 years ago. However, lack of space had long been a problem for the museum. The goal: to double the museum's floor space from 6,900 to 12,000 square meters to create a highly functional space for events and exhibitions
117 designs were submitted from Austria and 50 from Germany, including Kuehn Malvezzi, Gerber Architekten, Hascher Jehle, Bez + Kock Architekten, and Stephan Braunfels. The winner was the Austrian architectural team Certov, Winkler + Ruck.
To ensure a high-quality structural design, the experts at Bollinger+Grohmann were called in, relying on ALLPLAN's BIM software. Read more >
Source: allplan.com; Allplan Precast Allplan provides several technologies for implementing automation in the design and manufacturing process, enabling easy-to-use automated workflows and better productivity. These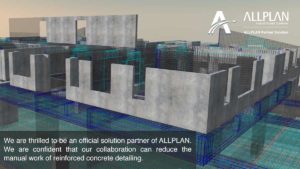 Maximise the value of your Allplan software with ALLTO PythonParts Source: allplan.com ALLTO Software develops professional add-ons that are compatible with ALLPLAN, has entered into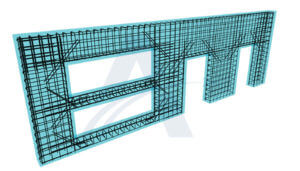 Source: ALLTO PythonParts, allplan.com There are a wide range of reasons why walls may need to be reinforced, either during initial construction or as a