Maximise the value of your Allplan software with ALLTO PythonParts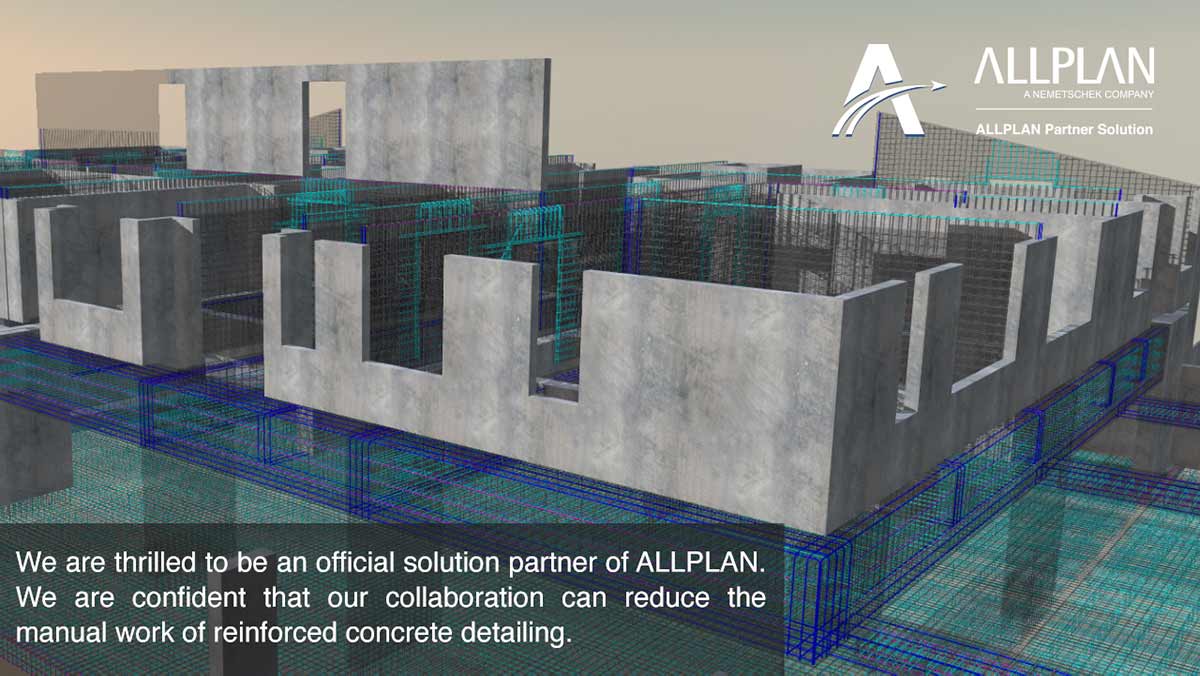 ALLTO Software develops professional add-ons that are compatible with ALLPLAN, has entered into a partnership with ALLPLAN, is an global provider of BIM solutions for the AEC industry. The aim is to develop an integrated pythonparts that can be used to automate engineers' workflows, helping them to complete their tasks easier, faster and reduce errors. Allplan users can also work closely with ALLTO to meet their individual needs.
We are thrill to be an official solution partner of ALLPLAN. We are confident that our collaboration can reduce the manual work of reinforced concrete detailing.
Custom Allplan pythonparts development plays a key role in our efforts to meet every client's needs. They're part of "Speed up the job of Engineers" since the insights and wish-lists of cutting-edge Allplan users drive the innovation that ultimately benefits the whole BIM & OpenBIM community.
Rebar Detailing - job of structural engineers
Structural engineers work closely with so many rebar detailing drawings, yet our software tools can help. Afterwards, rebar detailing can be done faster, saving valuable time.
Everyday structural engineers have to deal with rigorous and time-consuming rebar detailing to comply with code requirements for building design and local rebar detailing standards. Historically, this task was done in 2D detailing software like ArchiCAD, autoCAD software, but today the industry is based on the BIM (Building Information Modeling) environment, and it's necessary to create rebar elements inside the Allplan model.
ALLPLAN tools (Allplan PythonParts) - Speed Up The Job Of Engineers
With ALLTO BUILDING PYTHONPARTS, you maximise the value of your Allplan software. Many useful add-ons are included in the package:
Coordination is critical to maintain a tight construction schedule, avoid site errors and eliminate costly extensions. Building information modeling (BIM) gives drafters the ability to work in their familiar 2D drawing, while generating a 3D model. Functions like automatic bar placement and bending tools can cut the time it would take to design projects.
Allplan allows rebar detailers to quickly and accurately model, reinforce and detail concrete structures
> Integrate 3D and BIM into existing 2D workflows
> Generate accurate cost appraisals
> Automatically detect clashes
Sign Up To Get [free trial]
ALLTO Building Reinforcement PythonParts!
Source: allplan.com; Allplan Precast Allplan provides several technologies for implementing automation in the design and manufacturing process, enabling easy-to-use automated workflows and better productivity. These